SYNOPSIS
Six maids, a chef, a gardener, an insurance agent, and a COP.....what could go wrong?
Who Maid Who? is a brand new farce by David Lassig. The story is set in a comfortable lake cabin where Joe plans a quiet weekend retreat with his would-be-mistress. Add his best friend Chris, as an unwitting alibi, and Joe has all the makings of a worry free weekend, at least until his wife Robin shows up and catches her husband with a suspiciously-clad new "French maid"! As if this situation weren't sticky enough, enter Joe's parents, with a weekend of their own planned. Just when "Mr. Alibi" seems to have all the bases covered, Chris' own wife pops in to surprise him with a romantic weekend. Did we mention the inquisitive cop, the chef, the gardener, and the old maid? This is one madcap weekend of laughter you won't want to miss!
CHARACTERS
JOE: a simple looking man in his thirties/forties.

ROBIN: a cunning woman in her thirties/forties.

CHRIS: a likeable man in his thirties/forties.

MARSHA: a buxom and cheerful woman in her late twenties/early thirties.

GEORGE: a brash man in his fifties/sixties.

GLADYS: a flamboyant lush in her fifties/sixties.

BETH: a cute, naive woman in her thirties/forties.

ROGER: a homely officer in his forties/fifties.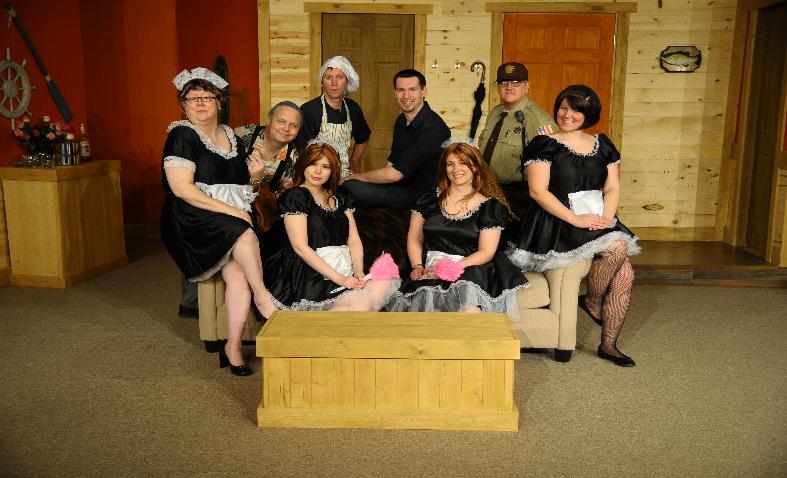 Photo Courtesy of Searle Swedlund Photography
Cast of the Harwood Prairie Playhouse Production of Who Maid Who? (March 2009) - Adam Harfield, Dori Reich, David Lassig, Amanda Eide, Jim Donat, Pam Strait, Shanara Lassig, John Steiner